This styled shoot was inspired by the vintage loving, Western admiring, bohemian leaning town of Boulder City. Images taken showcase the beauty of Forge Social House with elements from the Boulder City community like the local church and beloved public park. Inspiration for this shoot was drawn from Boulder City's love for all things vintage and wild west spirit while still reflecting the effortless bohemian style of the nature the town is surrounded by.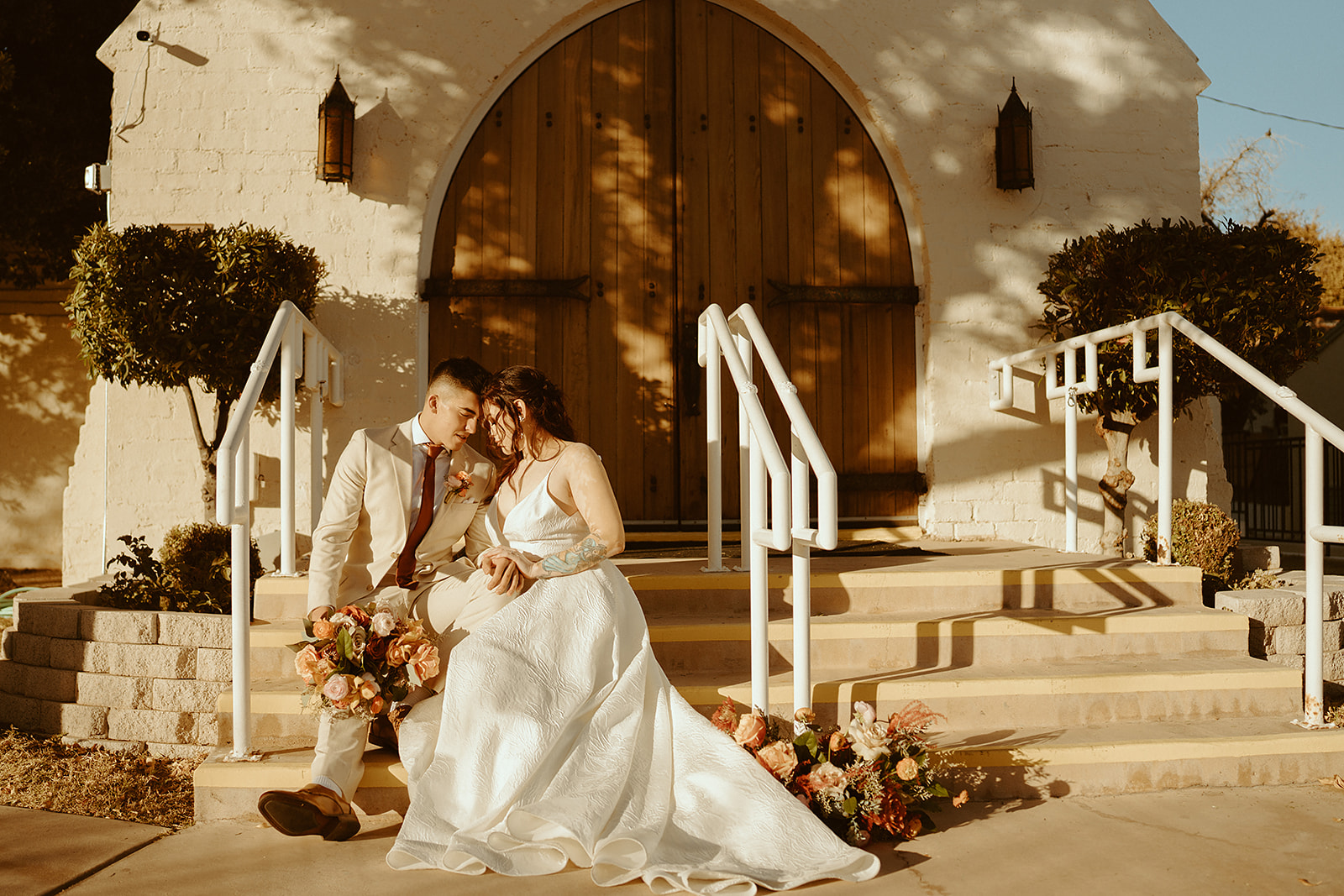 What was your design inspiration?
Our design was inspired by the vintage soul and western spirit of Boulder City, the location of the styled shoot. Boulder City is home to quaint antique shops, wild west inspired buildings, and a retro bohemian vibe that is rivaled by none. Our color palette was inspired by the sunsets over Boulder City. The rust, tangerine, and mauve colors blended for a stunning background for the architecture of Boulder City to glow against.
Describe your flowers.
Floral arrangements included copper red chrysanthemums, pink and orange ranunculus, beige and coffee roses, varying shades of preserved pampas and gold painted ruscus in gold compotes, free standing gold frames, bud vases, and hand tied personal arrangements.
Describe your cake.
This three tier cake has intricate lace-like details that flow into a brushed bronze look that supports succulent and floral fondant decor.
Tell us about your attire choices.
The bride alternated between two gowns with an array of accessories. First, the retro glam gown has intricate detailing of the shoulder and waist that paired with a fringed veil that we are obsessed with! The next gown has a much more classic silhouette with a gorgeous nature-inspired texture.
The groom's tan suit embodies the laid-back bohemian elegance. This mod, sandy shade with visible woven texture throughout compliments florals and supporting details.
Describe the tablescape elements.
Tablescape elements play on texture- from the woven linen napkin to the crushed velvet table runner. Vintage-inspired glassware like the amber goblets and gold printed rocks glasses were a must to compliment the antique design inspiration.
Credits
All of the wedding pros who made it happen: