Eloping is a bit like baking a cake: the outcome is only as good as the ingredients you put in. And when those ingredients include red rocks, desert landscapes, and a truly jaw-dropping sunrise, you can be sure the results will be nothing short of spectacular. That's exactly what happened when Noe and Deanna set out to capture the sunrising over Cathedral Rock in Sedona. As the light began to creep over the horizon, they were treated to a show that was both unexpected and unforgettable. The colors changed minute by minute, painting the rocks in a range of hues that went from deep purple to burning orange. And as the sun finally made its appearance, they knew that this was a moment they would always remember.
There's just something magical about Sedona in the early morning light. The red rocks seem to glow, and the air is crisp and clean. It's no wonder that so many couples choose to elope in this beautiful setting. Cathedral Rock is one of the most popular locations for Sedona elopements. The sun rises directly behind the rock, creating a stunning backdrop for photos. And, since Sedona is located in the high desert, there's no need to worry about heat or humidity. So, if you're looking for a romantic and unforgettable way to start your marriage, consider eloping at sunrise in Sedona.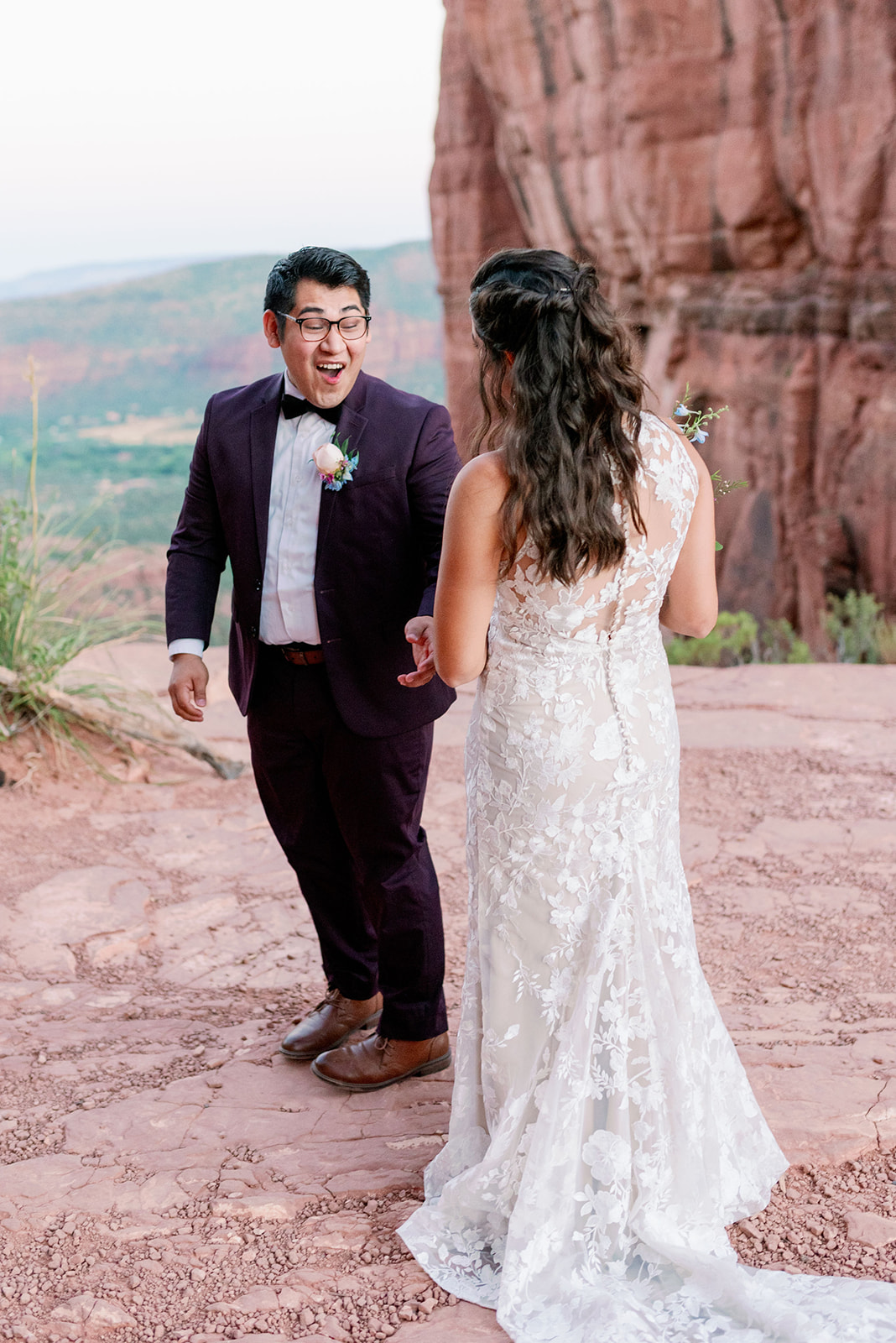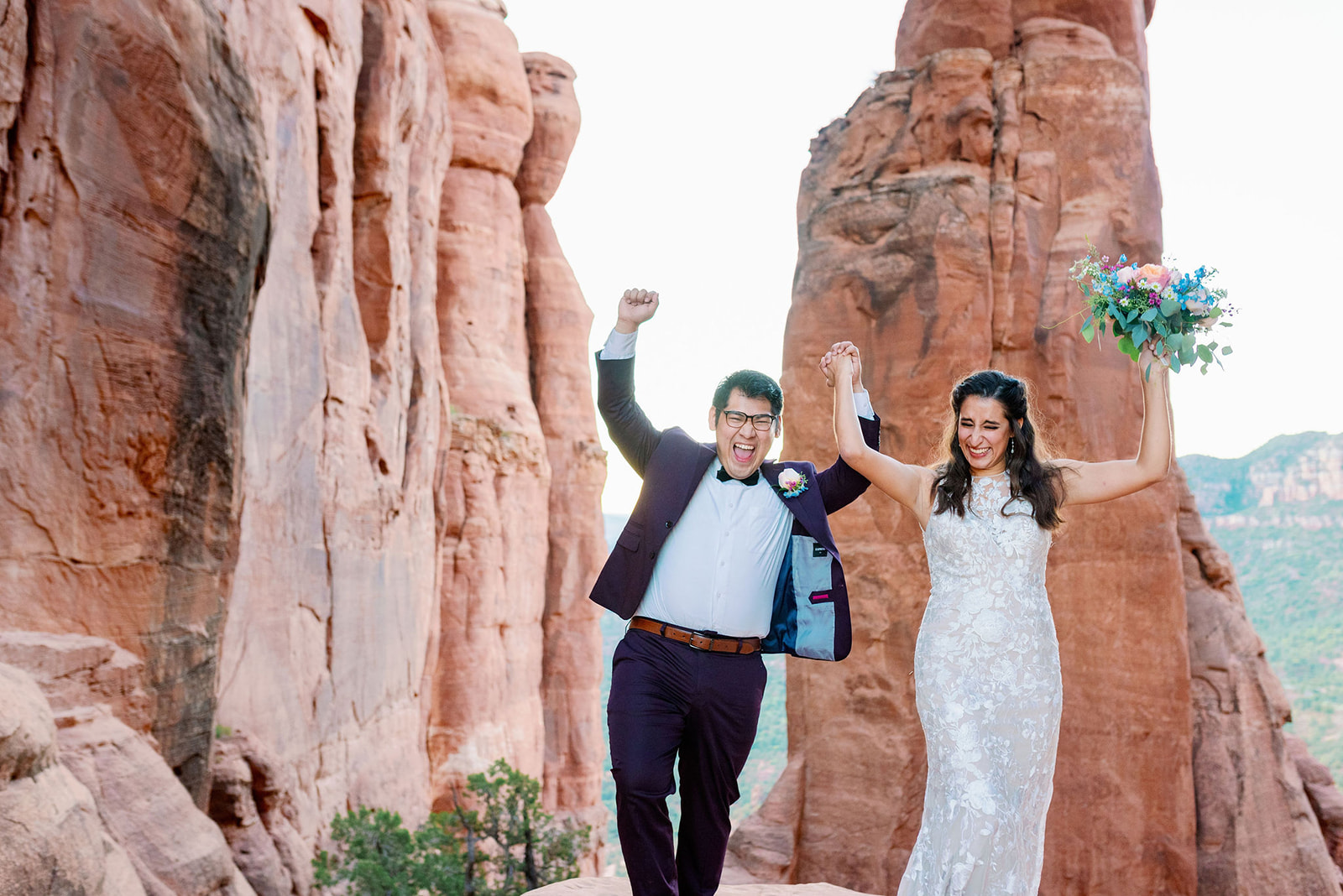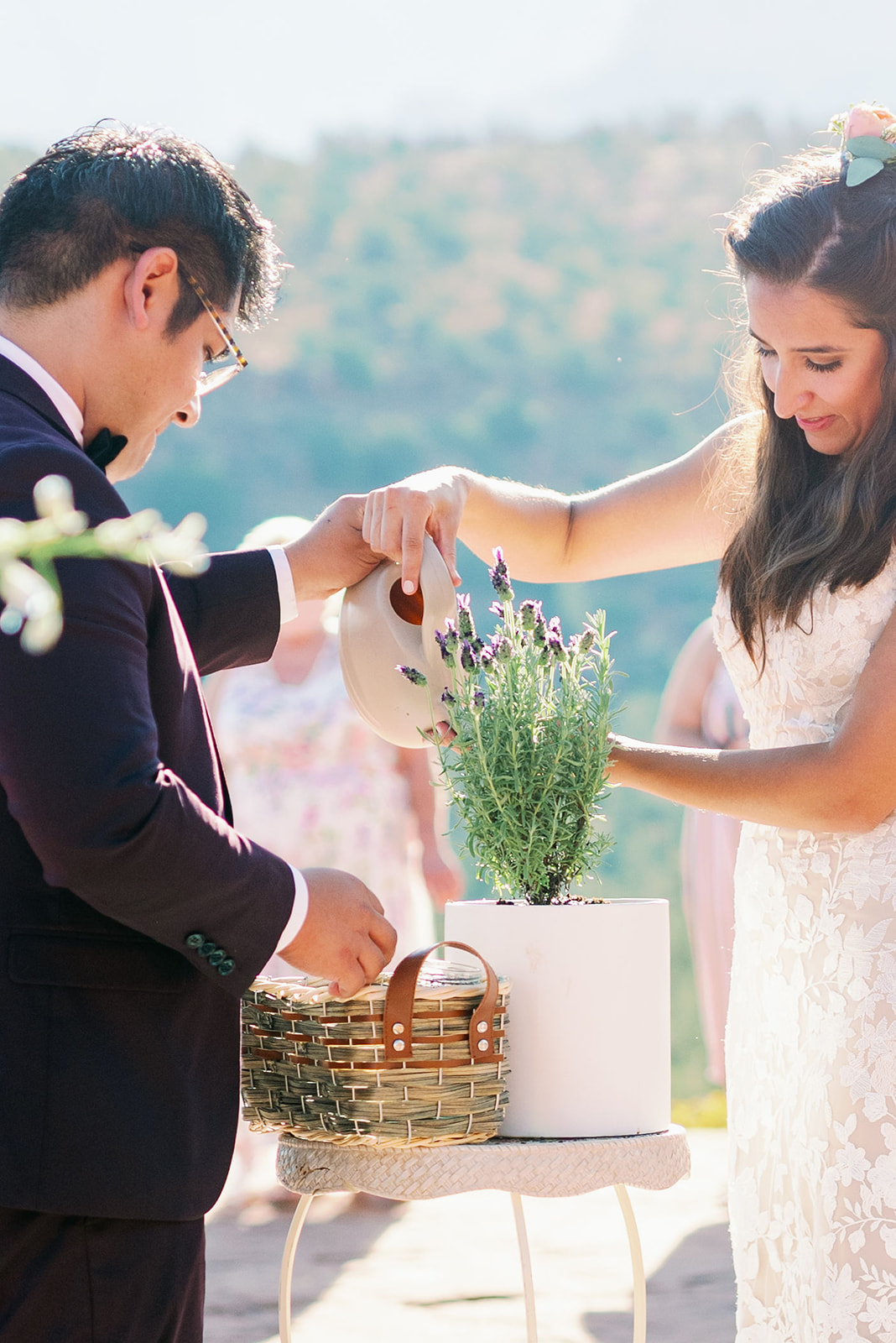 From the Photographer: One of my favorite things about being a photographer is meeting some of the most amazing people ever. After COVID hit, Deanna and Noe like many couples had to postpone their wedding plans not once, but twice! After postponing their June Wedding to November, they decided to scratch their November wedding, and the couple made the spontaneous decision to elope. But, they still wanted to get hitched with their close family by their side, so they thought why not go to them! Deanna and Noe emailed me immediately after their quickly changed plans asking if I would be open to traveling out of state for their elopement and of course I said YES! They took me on this incredible sunrise adventure to capture their love and it is a memory I will cherish forever.
How did you meet?
There is one in a million chance that you bump into your best friend and future spouse on the first day of college (trust us, we did the math). We had the same class, Intro to Sociology at 10 am the first quarter of our freshman year. While we never spoke, we mentally gave each other nicknames. Noe knew her as "the girl who was always late and who's keys would jingle way to loudly walking into class". Deanna knew him as "the weird punk who was grumpy and always sat in the back." Little did we know we would become best friends, but that would ONLY take three years. Three long years of not knowing each other despite having numerous mutual friends.
So you're probably wondering out of all places, where they finally would meet. Lover's Lane? The library? A social event? Well it was none other than the school cafeteria. Noe being a great aficionado of breakfast, would never skip the most important meal of the day. Deanna always in a rush would usually snag breakfast to go most days of the week. Odds where not in our favor until January 2015. This is when Deanna would have just enough time after her 7am lifeguarding class to catch breakfast with her friend Crystal (who is forever to blame for allowing us to talk). We would always stay and talk in the cafeteria every Friday, and the rest is history.
What is your proposal story?
We went on a weekend trip to Arizona. We had just purchased my little brother a camera for his graduation and invited him to come with us on a day of adventure to visit some of our favorite spots. These included exploring an  underground lava cave in Flagstaff and hiking Bell Rock in Sedona. (The very same city we married in!) Little did I know he would propose. We were in our hiking clothes, all sweaty, and hangry; I didn't even imagine this day would be the day he would propose. Just an hour before we sat in traffic, hungry, and needing to pee for over an hour and a half. After getting food, I decided it would be better if we went home. But he was adamant we continue our plans to hike Bell Rock. We started our hike, found a breathtaking view, and placed a blanket down on the red rocks. As we sat there enjoying the view, my brother started taking random pictures with his new camera. My then fiancé started to recount all our countless adventures as he proceeded to get down on one knee with both of us crying and wonderfully captured by my brother (who was in on the surprise). While it wasn't the day I had envisioned, it was the perfect day for us and I wouldn't have it any other way.
What were your favorite parts of the day?
Our favorite part of the day was the nap afterwards! We started our sunrise elopement at 4 am in the morning and couldn't wait to nap before heading to the river with friends and getting gelato.
Credits
All of the wedding pros who made it happen: