With sweeping views of cacti and the Arizonian mountains, this destination shoot is a snapshot of another lovely Southwest sunset. Today's couple scheduled their engagement session in the heart of Scottsdale's desert oasis. This gallery is filled with golden hour glow captured by Blue Arrow Photography, with views of Camelback and McDowell Mountain. 
Mike and Andrea fell in love with the desert while dating and visiting family in Arizona. With so many memories together, they knew the desert was the obvious choice for their wedding. We couldn't agree more! The Chicago-based couple flew to Scottsdale to visit their wedding venue at McCormick Ranch Golf Club and booked this engagement shoot, too!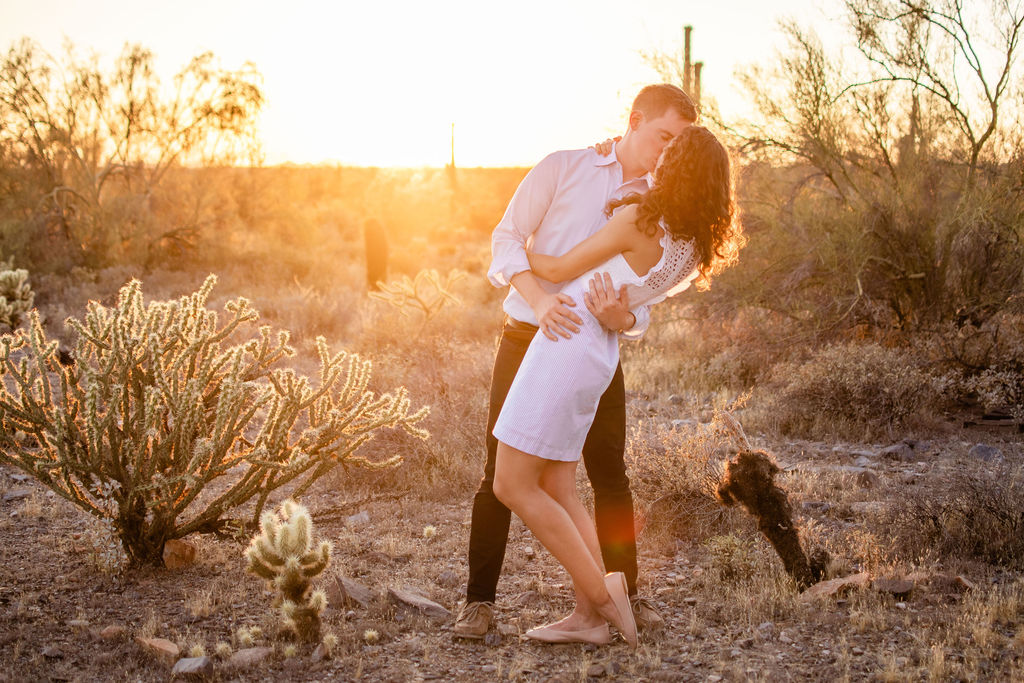 How did you meet?
We met through the online dating app, Hinge. Although I was born and raised in Arizona, we live in Chicago. On our first date we enjoyed cocktails at an old-fashioned Jazz bar and enjoyed a summer of exploring the city restaurants…the rest is history.
What is your proposal story?
We live in Chicago, and the Phoenix Suns were playing the Chicago Bulls at the United Center. I had talked about going to this game since the NBA schedule came out. We decided to make a fun staycation weekend out of it and booked a hotel in downtown Chicago. Unfortunately, at some point in the night I lost one of our tickets (in the Uber) and we had to retrace our steps, and it took awhile to locate it. We missed half the game but still had an amazing time. Getting back to the hotel with a beautiful, romantic set up was the best part but I had no idea that was coming!
Tell us about your ring!
My engagement ring is Mike's mother's. It is a 1 carat round diamond with a band of small square diamonds. It's beautiful and I noticed it immediately on her when we met. Mike is her only son, and she wanted to pass it down to him. For our wedding bands we are planning to keep it old-fashioned and simple. We'd like to engrave the inner band with a special message that is significant to us and our commitment to each other.
Tell us about your engagement shoot
Shooting photos in the desert heat was tricky! We tried to keep it simple and let the landscape shine. I'm wearing dresses by Anthropologie and Lilly Pulitzer and Mike is wearing a dress shirt from Suit Supply. The light blue is my favorite color on him so I styled my dresses to match his shirt.
Credits
All of the wedding pros who made it happen: