Most couples dream of their wedding day for years before it ever happens. They plan and scheme about every little detail, from the color of the table linens to the type of music that will be played at the reception. For today's bride, dancing was always a big part of those plans. She loved dancing with their friends and family at the end of the night to their favorite songs while all our friends and family looked on. In reality, their wedding day was even better than they could have imagined! If you're looking for some inspiration, check out their unforgettable wedding.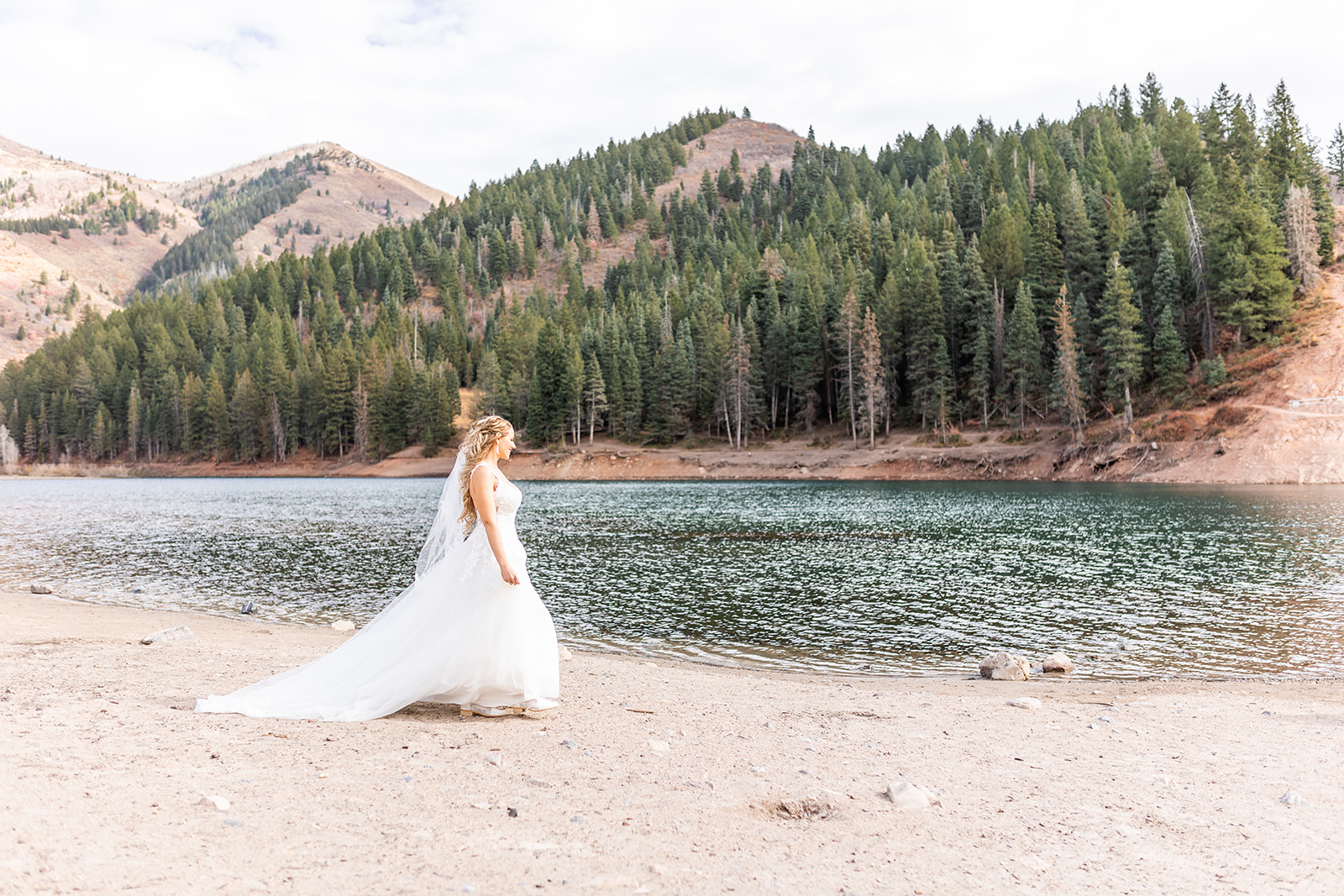 How he proposed.
"We went on a two week trip to Iceland in July of 2018. We had never been ring shopping and he kept making comments about how it wasn't time yet to throw me off the scent so I didn't have any idea it was coming. A few days into the trip we went to Jökulsárlón Glacier Lagoon first thing in the morning. I decided to wear a red dress to take photos for Instagram there. We snapped some photos and then headed across the bridge to the outlet of the park to the beautiful black sand Diamond Beach. Mike told me that he wanted to get some drone footage of me walking along the beach. So I started walking away and he called my name. When I turned around, he was on his knee and asked me to marry him. He said he had a whole speech planned but he was so nervous he forgot what he was going to say. I said "yes I will" and ran across the beach into his arms. He picked me up, spinning me around while telling me how much he loved me and how much I meant to him. He then gave me the ring. (I have the raw 4K drone footage of this if we wanted to incorporate it into any of the videos)"
How did you meet?
Mike and I met when we started in the same training class for Extra Space Storage inbound call center over 7 years ago. We casually went on dates for a few months before he moved to Ohio for a year. We stayed in contact over that time until he decided to move back to Utah. From the moment he got back, we were practically inseparable. We officially started dating a month after he got back. We dated for four years before getting engaged and moved in together and got our dog, Kodiak, along the way. We were engaged for over two years, purchased a house, and added another puppy, Scout, to our family before we got married.
What is your proposal story?
Mike and I planned a two-week trip to Iceland in July of 2018. He did his best to ensure I would not suspect getting proposed to on this trip by saying unexpected expenses made it likely that he wouldn't get a ring to propose that year at all. During the trip, we drove around the whole country along the ring road. He planned on proposing the first couple of days of the trip, but the weather would not have allowed our drone to fly, and he wanted to record the moment. One morning a few days into the trip, I wanted to get some photos in a red dress against a beautiful landscape like I had seen some photographers on Instagram do. He decided it was the perfect opportunity to pop the question. We took some photos in Jökulsárlón Glacier Lagoon and headed across a bridge to Diamond Beach to get what he said was some beautiful drone footage of the glass-like pieces of ice that break off the glaciers and are lined along the beach. He told me to walk along the beach because the drone has an active track feature, and he could get some footage of it following me along. I walked along the beach until he called out for me, and when I turned around, he was on one knee. He asked me to marry him, and I ran over to him, saying, "yes, I will," and he hugged me and spun me around while telling me sweet things about why he wanted to marry me. I wasn't expecting it at all, but it was one of the best moments of my life.
Tell us a little a bit about your wedding.
Our wedding colors were burgundy, grey, and white. We wanted a simple industrial look with just a little touch of rustic elements. We really wanted a barn wedding, but it was hard to find one in our budget that was not more than an hour's drive from downtown. Knot and Pine ended up being perfect for us.
Tell us about your attire choices.
My dress was a lot different than I initially pictured it would be. The lace details and flowing skirt sold it for me. I got the matching veil with the dress for a cohesive look. The groom and I loved the idea of a burgundy suit to help him stand out. I also knew I did not want to wear heels that would make me taller than the groom. This led up to the idea thought to both wear oxfords as a sweet touch.
What was the most important to the two of you while planning? Was there anything that you chose to splurge on or skip?
We splurged the most on photography and videography because it is the only thing you get to keep long term, and we definitely did not regret it. We were going to skip favors but decided to add them at the last minute to allow everyone to have nice matching masks.
What were your favorite parts of the day?
I loved dancing with our friends and family at the end of the night. We had some really heartwarming speeches that I will never forget. I also loved the intimacy of the first look before the ceremony so we could have that moment for ourselves. The first look with my dad was also a really special moment I recommend to everyone. Honestly, the whole day was perfect. Walking down the wedding aisle after we said our vows and feeling elated that I got to spend the rest of my life with my best friend was amazing.
Tell us about your wedding flowers.
We wanted mostly greenery, succulents, and white pumpkins for our wedding flowers. We added a few pops of colorful flowers in our wedding colors to the bouquets as well but kept the actual flowers pretty minimal. The groom and his mother actually grew the white pumpkins themselves and added those to the decor. Fall is our favorite time of year, so we also used beautiful leaves we gathered from the canyons in lieu of flowers thrown by the flower girl.
Tell us about your wedding cake.
We ordered a small two-tier wedding cake in addition to our homemade dessert bar. We had a carrot cake layer and a lemon with lemon curd with vanilla buttercream frosting. We wanted it to look like an aspen tree with burgundy fall leaves on it, and they really delivered. The cake was delicious. We got a lot of good feedback and no complaints that it was vegan and gluten-free.
What did you do for favors?
We did customized face masks because of COVID.
Please describe any DIY, handmade, or personal details.
We grew and decorated with our own white pumpkins. The dessert bar was decorated/designed by us. We also had homemade goodies for the dessert bar. Our moms made the majority of the goodies, but I also made something. It was definitely a hit. We also had a local winemaker that made custom wedding labels for us for a very affordable price. The groom also cut and stained all our signs, and some kind cousins of ours made the vinyl to finish them up. My husband proposed to me on a beautiful black sand beach in Iceland, and before he proposed, I had gathered some black sand to keep as a moment. Afterward, I had his ring custom made with that sand and meteorite to remind us of the moment he asked me to marry him.
Did you include any family heirlooms or special traditions?
I tied my late grandma's bracelet around my bouquet as my something old and something borrowed. This made us feel like we had a piece of her with us during the day.
Do you have any advice for couples planning their weddings now?
Eat first! It made the day so much nicer. We mingled while other people ate. Also, get a day-of coordinator. They are worth the investment.
*This post does includes affiliate links*
Credits
All of the wedding pros who made it happen: