Outdoor weddings have become the go-to for couples, especially in the Southwest, and rightfully so. Not only do they provide couples and guests alike with a comfortable setting for social distancing, but when planned carefully, they can make for unforgettable celebrations against the backdrop of beautiful nature views (hello Nevada salt flats and Wasatch Mountains!)
Yet, there is still a multitude of misconceptions about the actual planning process, so we asked some wedding industry experts to chime in and share their advice for major do's and don'ts when coordinating your outdoor event.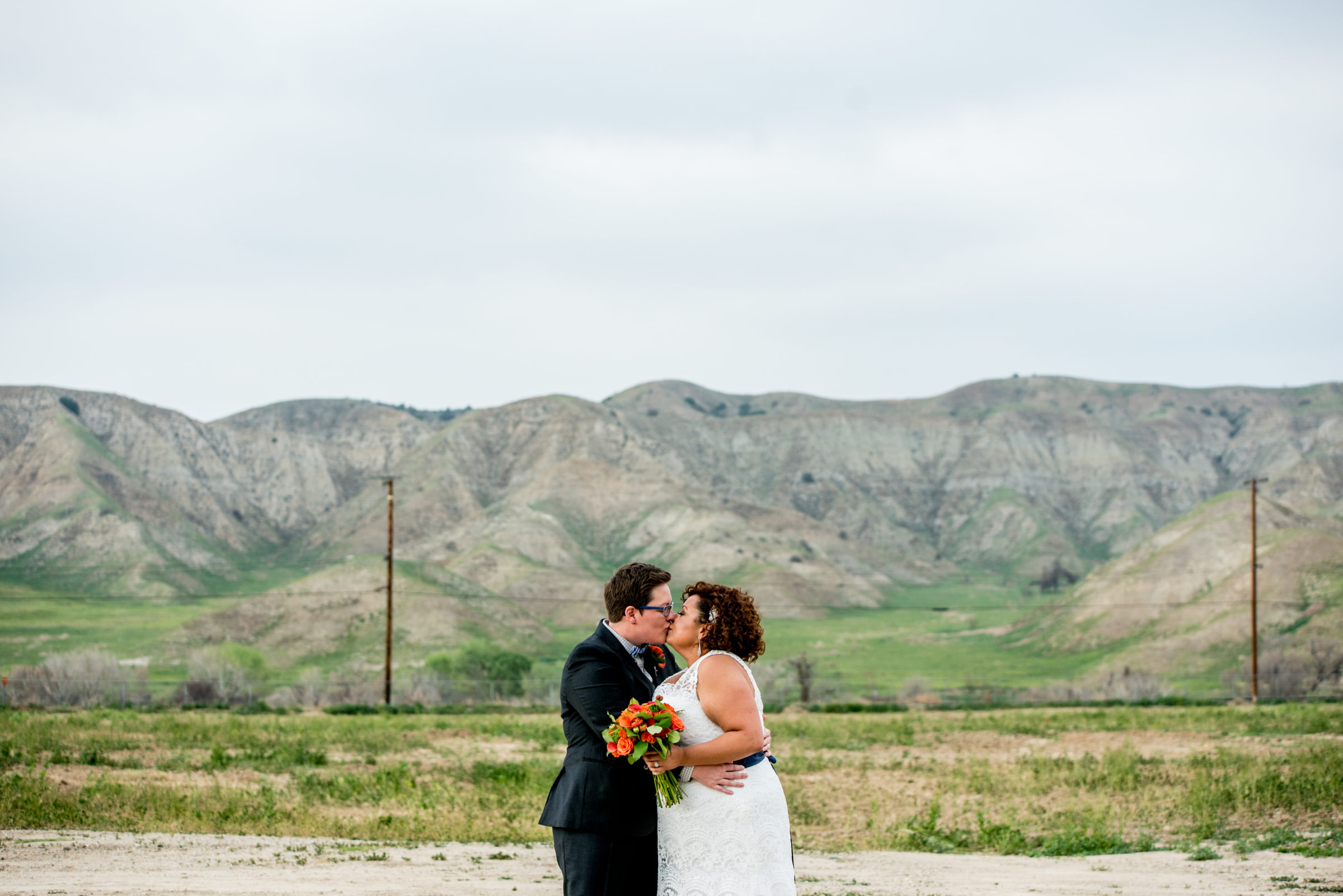 What couples typically overlook
For starters, Kevin Dennis of Fantasy Sound Event Services strongly advises to plan on a venue with proper electricity hookups. "I can't tell you how many times we've met with a couple that had no plan for powering their outdoor wedding ceremony and/or reception. Unfortunately, not every location is wired to successfully host events, so this should be at the top of your priority list when researching venues. Your lighting, entertainment, food and beverage, and more all depend on it!"
Remember, having your celebration in nature quite literally means dealing with all of nature's elements, even if the weather is perfect. Keith Willard of Keith Willard Events states, "I know it doesn't sound glamorous, but when dealing with the great outdoors, the one thing that most couples forget about is the one thing that there is plenty of: dirt.  Having a stunning clear tent with chandeliers in the midst of a mid-western farm is truly an Instagram star, but don't forget what your guests are standing on during the event, including what they had to step on to get to and then leave the event."
Kristen Gosselin of KG Events & Design is the first to say that 'outdoor' doesn't equate to 'budget-friendly'. "As opposed to venues with full staffing and infrastructure in place, many couples fail to realize that an outdoor wedding, especially one that is in a field or at an estate, requires much more work. This goes for both the planning process and the production of the event. Since a venue basically must be built and taken down over the span of one weekend, vendor teams for an outdoor estate or field wedding can almost double that of a wedding at a venue. Bathrooms, power, water, catering equipment and more rental needs are required to effectively build a wedding venue out of thin air."
Meanwhile, Jenny DeMarco of Jenny DeMarco Photography suggests that putting an emphasis on lighting can save the day. "Pay attention to both the natural light during daylight hours for your ceremony and your reception lighting. Will the sun be blasting in your groom's eyes while you are covered in the darkened shade? The best natural light outside is what is called constant and even shade. Watch out for dappled light under a tree canopy. In addition, really consider your reception lighting while outside. If you can, try to create background lighting by up-lighting trees, washing a building wall, or fence line."
And who can forget the uninvited guests? "Insects and rodents are often not considered, so having mosquito repellent and itch cream available in the restroom or at the bar is a nice touch. Breeze and wind can cause issues with signage, candles, and other details or decor that is set out," says Amber Anderson of Refine for Wedding Planners.
Advice for throwing an outdoor wedding
For Kristin Wilson of Our DJ Rocks, there's nothing as important as having a contingency plan. "If you're at a venue that also has indoor space, ask when they call for a rain backup and let your vendor team know that time as well so they can plan for any changes, too. If you're not at a venue and just using someone's backyard or a public park, check the cost of renting a tent for a wedding of your size and talk to the people who know the land best about whether you need a floor as well. Some areas don't flood, but for others, it may be best to have both a tent and a raised floor as your backup plan."
Additionally, Kylie Carlson of The Wedding Academy notes that décor is absolutely a 'do'. "The great thing about an outdoor ceremony or reception is that you're given a lot of freedom with the décor. Don't be afraid to take advantage of this opportunity and go for transformative elements such as vintage couches, luxe drapery, fancy bar setups, and more."
Eddie Zaratsian of Eddie Zaratsian Lifestyle & Design is especially keen on elevating the dinner experience. "A popular choice in recent outdoor weddings is all about taking the reception dinner to the next level. Consider arranging large banquet tables in a creative layout, and go all out with the florals and tablescapes. A common misconception is that you have to stick to nature and go with the existing florals, but that simply isn't true. Think about bringing in over-the-top floral installations, or crafting your own fairytale garden!"
Let's talk about inclement weather
Bad weather is certainly on the radar when discussing the possibility of planning an outdoor wedding, but Juls Sharpley of Bubbles & Bowties discusses the need-to-know basis for couples. "I believe that the LAST thing a couple should be focused on is the weather. Again, this is where having a professional planner on your team comes into play big time. Throughout the planning process, your planner should work with you to come up with not only the ideal Plan A, but also Plans B and C, checking to make sure they are plans that you will be happy with when and if the call needs to be made."
Laura Maddox of Magnolia Celebrates wants you to know that, "Often, tents need to be built days in advance. It is always a great idea to start watching the weather about 10 days out. However, do this with the understanding that weather often changes and you will have a much better picture the Monday before your event. Usually this is when a call needs to be made on any rain plan items as well."
Nora Sheils, founder of Bridal Bliss also recommends being very prepared with weather-proof rentals. "Tents should be reserved early on, with a cancellation clause in place. Frantically calling every rental company in town when the weather turns is not a great way to spend your wedding week, and you will have quite a bit of competition! Timing on when to pull the trigger really depends on the venue. Typically, rentals require at least 48 hours on a final decision, however some venues with ample storage may have a bit more flexibility."
Prioritizing guest comfort
Everyone wants to believe that their wedding will be exceptionally lucky and go on without a hitch, but Shannon Tarrant of WeddingVenueMap.com notes that it's simply not realistic – particularly when it comes to guest comfort. "Time and time again, I've seen guests at outdoor weddings on the extreme side of the spectrum, when it's really hot and humid outside in the direct sun and when it's cold. A key to success for your guests at an outdoor wedding is letting them know that everything will be outside. This will help your guests know to dress accordingly for the weather. Similar to holding a tent, you might want to reserve heaters, fans, or portable air conditioning if the weather might be uncooperative."
Janice Carnevale of Bellwether Events suggests being proactive with your wedding's offerings. "Once the guests arrive at your wedding, you can offer things like sunglasses, parasols or chilled towels for a warm outdoor day. For a cool outdoor celebration, you can offer blankets or pashminas. Finally, having temperature-appropriate beverages available at all times while the guests are outside is also a great idea."
Willard adds: "Most couples under-rate the restroom experience. This is one of the most personal spaces that your guests are going to experience during your wedding. Not only does it need to have privacy options, it needs to be clean and well lit. Don't forget to have more than you need in this area. You do not want to have a line at the restrooms! And just for that added extra peace of mind – hire a restroom attendant to make sure paper products stay stocked and the restroom stays clean."
Beyond simply creating a romantic environment for the evening, JoAnn Gregoli of Elegant Occasions by JoAnn Gregoli says this about lighting: "Make sure your area is adequately lit with lighting from above and below. Pathway lighting is essential to make sure no one is injured. I like to provide the following for my guests: cold water towels, warm pashminas, bug spray, mini flashlights to help them find their way to their cars."
Jamie Chang of Passport to Joy adds, "The easiest way to make sure you have what you need so that your guests are comfortable at your outdoor wedding is to think about the flow of the day. Start with their arrival and walk to the ceremony and go through the day all the way to their exit. So, for example, if it's hot or cold perhaps a beverage or umbrella or blankets would make the walk and waiting for the ceremony more comfortable. But, it's not just physical items you'll want to think about. For example, if the terrain is uneven or difficult to manage, you'll want to inform guests about it ahead of time so they can plan accordingly."
Lastly, Gretchen Culver of Rocket Science Events presents a great way to ensure that your wedding favors double as gifts of comfort for the celebration itself. "If it is going to be warm, have lots of water available throughout the day and have your ceremony program double as a fan. Custom sunglasses are also a cute touch. Chilly at night? Get some pashminas, blankets and freestanding heaters or fire pits. Is everything happening on the beach? Provide a shoe valet for guests to store their shoes, and even better provide them flip flops for the festivities."
In deciding on whether or not you and your soon-to-be spouse should hold your wedding outside, we hope you'll take all these factors into consideration. Although you may have your heart set on a Sonoran Desert wedding, it may not be the best fit for you and your loved ones, and that's completely okay! Discuss your wish list, know your options, and be mindful that an outdoor event could potentially be more involved than one that's held indoors.
Meghan Ely is the owner of wedding PR and wedding marketing firm OFD Consulting. Ely is a sought-after speaker, adjunct professor in the field of public relations, and a self-professed royal wedding enthusiast.
We've partnered with OFD Consulting to bring you this great advice from their collective of wedding professionals.